Seattle Sewer Repair Case Study
Seattle Sewer Repair Overview
Five Seattle homes were in need of a sewer repair. Root intrusion had completely blocked a sewer line shared by these five homes in the Seward Park neighborhood of Seattle upstream in their shared line. Downstream, additional root intrusion had also degraded the old concrete connection to the city's main sewer line, which meant we had to coordinate with the city to have them tap a new access point for the new line.
Working with the City
Since Seattle Public Utilities maintains the public sewer mainlines, private contractors like Sewer Friendly are not allowed to breach the main sewer lines. City sewer engineers and utility workers must plan for and execute the tapping process into the mainline. Once they have performed that process, called a core tap, then we can continue to finish our job of installing a new line in place of the old section of concrete pipe that had passed it's serviceable life. Additionally, a cap was put into the old main line access point, and both cap and new line joints were sealed with concrete, to ensure a long life of trouble-free sewer service.
Takeaways From This Seattle Sewer Repair Job
Sewer repair can often be avoided by performing yearly or bi-yearly maintenance that would consist of a sewer inspection and hydro jetting service to keep roots and other undesirables at bay. We offer various options of maintenance contracts, call us today at 206-890-7478 to learn more!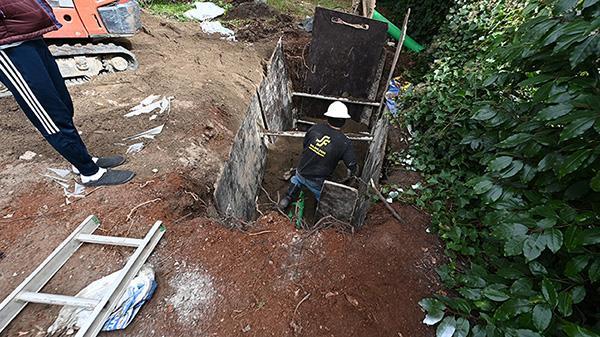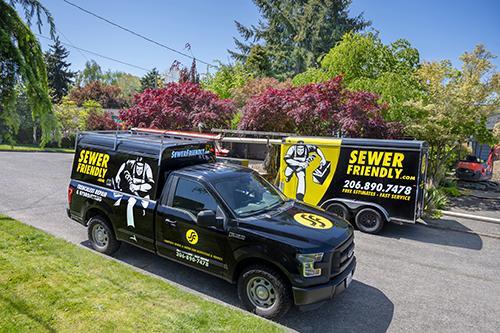 Your Full Service Sewer Repair Company
Sewer Friendly are sewer and water line specialist plumbers based in Edmonds, WA, serving the Greater Seattle Area and all of King an Snohomish counties. We do not perform in-house finish plumbing like sink or shower installations. Our services include: