Sewer Service Areas in King and Snohomish County
Does Sewer Friendly provide sewer service near me? Yes! Our friendly sewer service means trusted pro sewer repair contractors will reliably get to your location in a timely fashion. We've been doing it throughout the greater Seattle metropolitan area for over 20 years. Based right on the King & Snohomish county line in Edmonds, WA, we come running when you call us!
Not sure where your sewer line runs through your property? Here are quick links to side sewer card maps:
Click on the city or area you live in.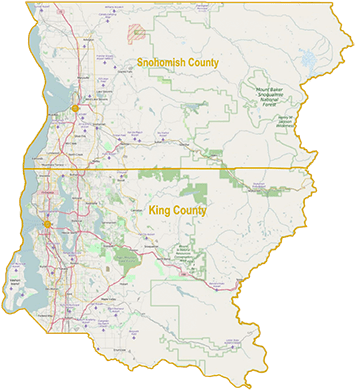 Q: What causes sewer line damage?
A: There are a few common causes of sewer line damage, including tree root intrusion, aging pipes, and ground movement.
Q: How do you determine the cause of sewer line damage?
A: We perform a sewer inspection with a special camera to inspect the inside of the sewer line and identify the cause of the damage.
Q: What is trenchless sewer repair?
A: Trenchless sewer repair is a method of repairing or replacing sewer lines without digging up the yard or driveway. This can save time, money, and hassle for homeowners.
Q: How often should I have my sewer line inspected?
A: We recommend having your sewer line inspected every two years to catch any potential problems before they become major issues.
Q: What is Hydro Jetting?
A: Hydro jetting is a method of cleaning out clogged pipes using a high-pressure water stream. It is an effective and environmentally friendly alternative to traditional drain cleaning methods.
Q: What should I do if I have a sewer line emergency?
A: If you have a sewer line emergency, such as a backup or overflow, call us immediately. We offer 24/7 emergency services to help you get your sewer line back in working order as quickly as possible