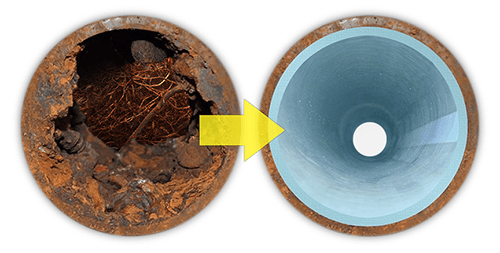 How Does Pipe Lining Work? 
In the greater Seattle area, we use the trenchless sewer lining process to repair old clay, cast iron and concrete pipes. 
First, A Camera Inspection

 –

Locates cracks and confirms failing joints.
Then, We Clean Existing Pipes –

Hydro Jetting clogged sewer debris and root intrusions.
Next, We Measure the Existing Pipes

– To determine how much lining material is needed.
Additionally, Preparation of Tube Replacement –

Replacement piping is typically a felt tube made of fiberglass, polyester or similar.
Epoxy Impregnation & Inversion of Tubing –

The tube piping is impregnated with an epoxy-resin. Then it is inverted inside-out using a specialized inverting tool.  As a result, the epoxy-resin is then on the outside of the tubing, and bonds with the walls of existing pipes.
Tubing Insertion –

The tubing slides throughout the walls of the piping system to reach its final position.
Lastly, Pipe Curing –

Hot air or steam curing (4-12 hours drying time) or Bluelight LED curing (up to 5 times faster) creates the new seal. Ultimately, all moisture is drawn out and the new lining solidifies in place.
Finally, Flow is Returned to Newly Lined Sewer Pipe –

Once the curing process is complete, service to the sewer line is restored. As a result, the life of your existing sewer line is now good to go. Potentially, for several more years of trouble-free service!
The Benefits of Sewer Lining
Homes and businesses turn to trenchless sewer lining for many reasons:
Because excavation of property is unnecessary, this saves landscaping and walkways

Location of underground utilities is not necessary

Significantly hinders root intrusion and slows erosion of pipes, giving your sewer line new life for several more years