Reviews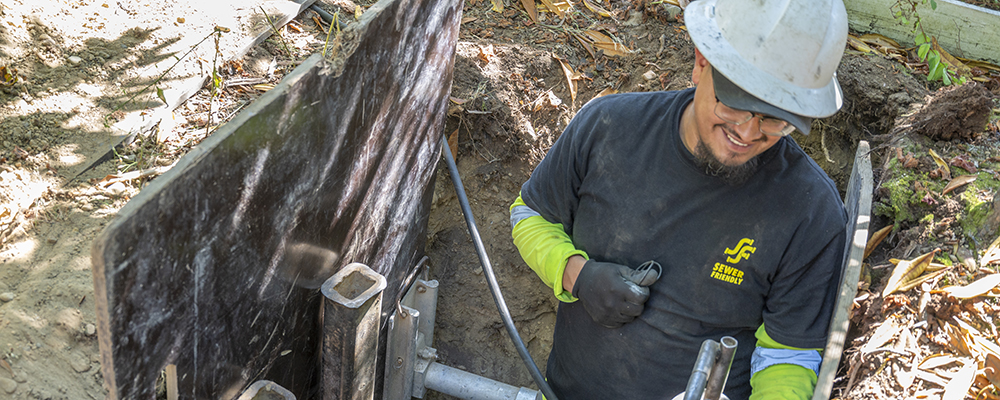 Here are some Sewer Friendly top rated reviews from our satisfied customers over the past year…
11/22/2021
We had to replace our 70 year old concrete sewer line that as it turns out was literally crumbling. Knowing we had to adjust the new line to accommodate a new addition to our house, we had Sewer Friendly out to assess the job. Rick was amazing at explaining the process, he also worked out the logistics with our contractors who were in the process of pouring a new foundation. When we said we were thinking of building a DADU in the near future, he said let's put in a Y so that's all ready to go when you do decide to build! Great forward thinking!
Then when the work started Robert took over and he and his guys did the whole job (75′ of new line) in two days. As well, the owner, Sheree, even came out to check on the job. We are very happy with the work and the price and the personable professionalism that we experienced with Sewer Friendly. In conclusion, we would definitely hire again! (Although we should be good for at least another 70 years.)
– Fritz R.
11/8/2021
I highly recommend Sewer Friendly. They do a good job digging and replacing sections of problematic sewer pipes, and they stand by their work.
Sewer Friendly dug a hole in the middle of the street and replaced a section of concrete pipe that had thick tree roots in it for us in 2017. After that, the subcontractor to Sewer Friendly put lining to the rest of the concrete pipes.
However, we experienced a back up recently in 2021. Cameron came over three times, jetted open the sewer, diagnosed and video taped the problems. Apparently, the lining work in 2017 left some gaps in between. Sheree and Elliot of Sewer Friendly offered to re-line our concrete sewer for FREE.
Robert and Parker, two cheerful young men, worked efficiently for a few days and dug a hole in our front yard. Sewer Friendly had a different lining company re-line the sewer. Our sewer works great now.
– Sunny B.
8/9/2021
I compared pricing and materials among the most reviewed and highly rated plumbing companies on Yelp. End result, Sewer Friendly won the bid and they did not disappoint!
I was very happy with the quality of service we received from Sewer Friendly. Truly adding to the "Friendly" portion of their brand – Robert and James provided impeccable customer service and quality installation. Both were professional in communicating the project plan with me, providing updates with each step. To that end, they were very patient and kind in explaining procedures and cost, not pushing for a sale. Above all, they really understood our budget and gave us solutions, options, and a game plan.
I hope I never need to see these guys again, but if I do – I know who I'm running to – SEWER FRIENDLY! Many thanks, Robert and James!
– Catalina P.
We even get hand written thank you's from many of our clients, that always end up on the office wall for all to enjoy…
Find more reviews on Angi and Yelp